Alarm Installer Company Marketing Guidelines
The information below will help you accurately describe the relationship between your company and UL in your advertising and promotions:
---
References to UL Listing
Sample correct references
Incorrect references
UL Certified Installer of [type of system*]
OR
UL Listed Installer of [type of system*]


*Include the types of systems covered by your UL certification.

UL approved installer.
UL Listed Burglary Protection and Signaling Central Station
UL certified installer. [When you are not a UL certified installer, but only sell equipment that connects to a UL certified central station.]
UL Listed Fire Alarm Central Station
UL certified central station [if you are not a UL Certified Central Station, but only use UL Listed equipment.]
---
Enhanced UL Certification Marks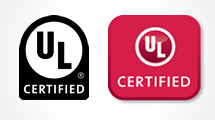 The enhanced UL Certification Mark now bundles multiple Certifications into a single Mark; utilizes a unique identifier for easier access to information at www.ul.com/database; communicates geographic scope of certification through country codes; and describes the attributes that UL has Certified about a product.