Other Marks from the UL Family of Companies
---
UL REGISTERED FIRM MARK

The UL Registered Firm Mark is a mark never applied to a product because it indicates that a particular facility has passed UL's evaluation to management system standards. The Mark is used in promotion and marketing by companies with management system programs audited by UL. The standards UL uses are the ISO 9000 series of quality assurance standards.
---
MARKS FOR PERFORMANCE CERTIFICATION SERVICE
These marks appear on products whose performance has been certified by UL. UL's performance certification marks can appear on a variety of products distributed in markets around the world.
Specifically, the UL Performance Verified Mark can be applied to UL Listed communications cable verified to performance standards such as ISO/IEC 11801 and NEMA WC66. It can also be applied to Listed fiber optic cable verified to Telcordia specifications. The UL Verified Performance Mark may also be applied to data transmission or optical fiber cable verified to performance specifications only. The Performance Verified Mark signifies that telecommunications cabling products are certified for both safety and performance, and comply with industry performance standards and draft standards.
There are two mark options for UL's performance certification service as noted below.

The UL Performance Verified Mark appears as above.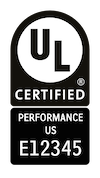 The UL Enhanced and Smart Marks for performance certification appear as above.
Depending on the certification program, this mark may have an additional country code. An optional QR code may also appear in this mark.
---
UL Environment ECOLOGO and Multi-Attribute Sustainability Certification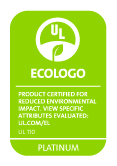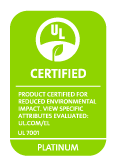 ECOLOGO and multi-attribute sustainability certifications tell the story of a product's environmental performance throughout its lifecycle, enabling purchasers to identify holistically greener products and meet their sustainability goals. These voluntary, multi-attribute, lifecycle-based environmental certifications indicate that a product has undergone rigorous scientific testing, exhaustive auditing, or both, to prove its compliance with stringent, third-party, environmental performance standards. Please visit our Database of Environmentally Sustainable Products for more information on sustainable products by product category, company name, product name or type of claim.
---
UL GREENGUARD Certification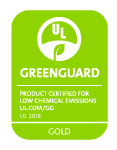 GREENGUARD Certification provides a competitive advantage in an increasingly muddled green marketplace by serving as a health-based differentiator. Products that have achieved GREENGUARD Certification are scientifically proven to meet some of the world's most rigorous, third-party chemical emissions standards-helping reduce indoor air pollution and the risk of chemical exposure while aiding in the creation of healthier indoor environments. Please visit our Database of Environmentally Sustainable Products for more information on sustainable products by product category, company name, product name or type of claim.
---
UL Environment Environmental Product Declaration (EPD) Certification

An Environmental Product Declaration (EPD) is a comprehensive, internationally-harmonized report that documents the ways in which a product, throughout its lifecycle, affects the environment. Similar to, but far more robust than, the concept of a "nutrition label," an EPD tells the complete sustainability story of a product in a single, written report. UL Environment's EPD Certification indicates that the EPD has been reviewed and certified by a third-party.
---
Enhanced UL Certification Marks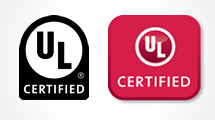 The enhanced UL Certification Mark now bundles multiple Certifications into a single Mark; utilizes a unique identifier for easier access to information at www.ul.com/database/; communicates geographic scope of certification through country codes, and describes the attributes that UL has Certified about a product.