Marks for Asia Pacific
---
SNI Mark for Indonesia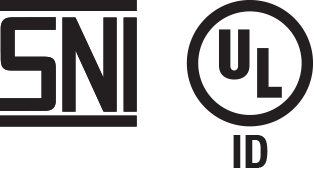 The SNI Mark for Indonesia is a mandatory safety certification scheme administered by the National Standardization Agency of Indonesia (BSN) through Ministry of Industry (MOI), Ministry of Energy and Mineral Resources (ESDM), and other implementing bodies. The use of the SNI Mark on a product — with or without the optional UL identifier for Indonesia — indicates that a product complies with the Indonesian National Standard (SNI) and can be sold anywhere in the Republic of Indonesia. UL acts as a product certification body (LSPro) for the SNI scheme.
---
UL Mark for Australia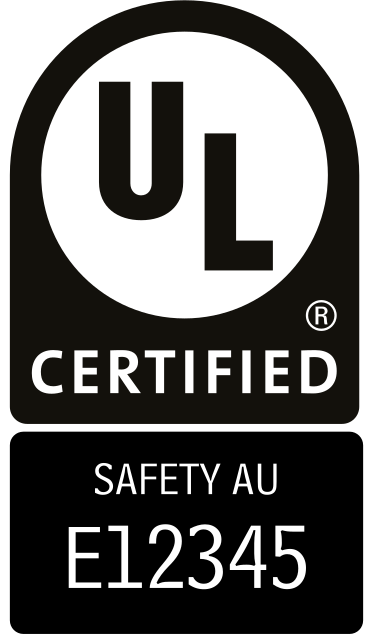 The voluntary UL Mark for Australia indicates compliance with local Australia standards and requirements. The UL-AU Mark can be used for a variety of products including residential smoke alarms, fire alarm panels, spa and swimming pool equipment, and lighting products. Products carrying the UL-AU Mark are covered by our factory inspection program aimed at determining that products using it continue to meet Australia requirements.
---
PSE Mark for Specified Products

The PSE Mark is a mandatory mark for Japan according to the Electrical Appliance and Material Safety Law (DENAN). It is administered by Japan's Ministry of Economy, Trade and Industry (METI). Products regulated under the DENAN law are categorized as specified products and non-specified products. Specified products require certificates from a conformity assessment body and the application of the PSE Mark, while non-specified products require mandatory compliance declared via application of the self-affixed PSE Mark, but not necessarily via certificates from a METI conformity assessment body. The UL family of companies is accredited by METI to provide the mandatory Japanese PSE Mark.
---
S-Mark

The S-Mark is the voluntary safety certification scheme administered in Japan for electrical products. The scheme began in July 1995, accompanied by both the relaxation of the electrical appliance and material control law and the enforcement of the Japanese product liability law. Third-party certification bodies that are the members of the Steering Council of Safety Certification for Electrical and Electronic Appliances and Parts of Japan (SCEA), such as UL Japan, Inc., administer the certification.
---
UL-JP Mark

The UL-JP Mark appearing on a product consists of:
UL in a circle symbol
JP designation under UL in a circle
UL's Marks for Japan are voluntary marks intended for use on products destined for the Japanese market. If a product carries one of these marks, it means UL has determined that representative product samples comply with the requirements of this service. These requirements are primarily based on compliance with Japanese standards. The scope of the certification is specified on the associated certificate, which is available through UL Customer Service or the product manufacturer.
UL's Marks for Japan apply to both electrical and electronic products and components intended for use in Japan. Products carrying one of UL's Marks for Japan are covered by our factory inspection program to determine that end products and components continue to be manufactured in compliance with the service requirements.
There are two options for UL's Marks for Japan, as noted below.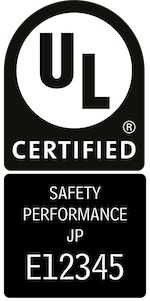 The UL Enhanced and Smart Marks for Japan consist of:
The basic Enhanced Mark
Appropriate attributes such as SAFETY or PERFORMANCE, or both
ISO country code of JP for Japan
Unique identifier
Optional QR code for the smart version
For all UL Marks for Japan, a manufacturer's identification, i.e., company name or trademark as well as a product model number must always appear on the same label with the mark. Alternatively, the mark may be stamped, cast or molded into a product, provided that a manufacturer's identification and a model number also appear on the product.
---
---
Enhanced UL Certification Marks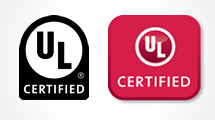 The enhanced UL Certification Mark now bundles multiple Certifications into a single Mark; utilizes a unique identifier for easier access to information at www.ul.com/database ; communicates geographic scope of certification through country codes, and describes the attributes that UL has Certified about a product.